Thanks to their special construction, box spring beds offer you an excellent and high level of comfort. This ensures a restful night and a good start to the new day. Furthermore, box spring beds are usually much higher than conventional beds. This not only makes it easier for older people to go to bed and get up, but is also very comfortable for younger and fit people.
Boxspring beds got their name because of the sprung box that makes up the special component of this bed. They were invented in the USA and were first found exclusively in luxurious hotels. Soon, however, they were mainly placed in private bedrooms, because these beds offer excellent lying comfort. Because of this ever-increasing popularity, more and more furniture manufacturers decided over the years to supply box spring beds. In the meantime, many models are available in different versions and designs.
The basic equipment of a box spring bed consists of two to three parts. The actual US version has a box with springing and a mattress with a sewn-in topper, i.e. a kind of overlay. However, the European version with an attached topper is now much better known. Other parts of such a bed are the headboard, which is often generously built, and feet. These provide a solid base for the box with springs and also ensure good ventilation. The feet also ensure that the bed is sufficiently ventilated from below. Box spring bed legs are made of all kinds of materials such as wood, metal or plastic and differ in shape and height. As a result, they and the headboard have a defining influence on the appearance of the bed.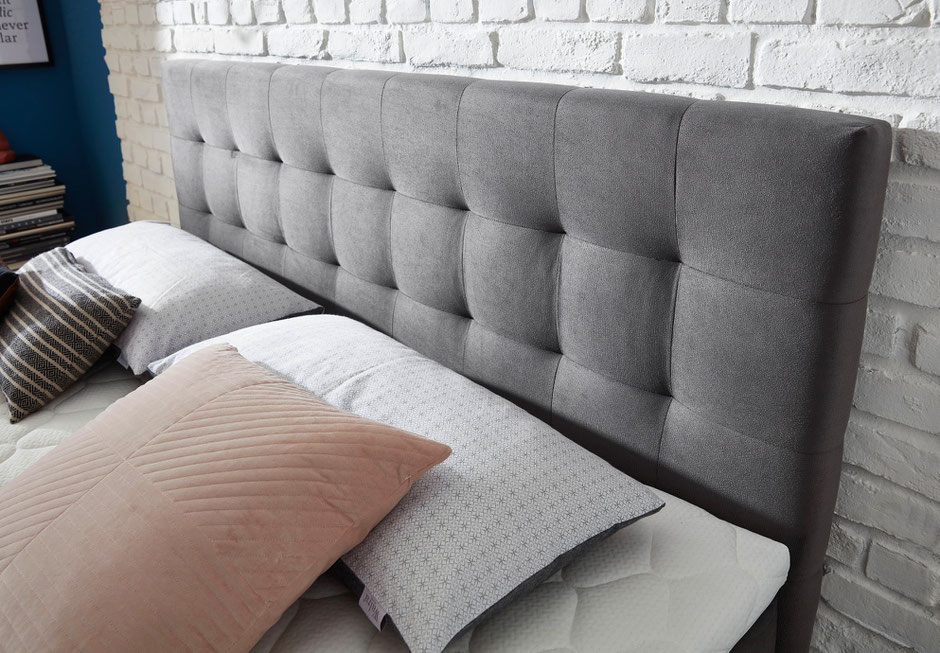 In a box spring bed, the box, which is equipped with springs and usually has a height of 15 to 25 cm, serves as the bed frame. It is also the first layer that ensures comfortable lying. The box is fitted with bonell springs in some versions and pocket springs in others. Bonell springs are area-elastic and therefore ideal if you want to sleep reasonably softly. If you want to avoid sinking in over a wide area, it is best to choose a bed with pocket springs.
The springs give way exactly where you want them to. You have more choice when it comes to mattresses. They usually have barrel pocket spring cores, in which springs with an abdominal shape are individually incorporated into fabric pockets. Because of this new construction, a barrel pocket spring core has better point elasticity. This means that it only gives way where it is loaded. This has a soothing effect on the muscles and is easy on the joints. Cold foam mattresses are used less often. They do not have high point elasticity. Both mattresses with barrel pocket springs and foam mattresses are available in different hardnesses. You choose the hardness according to your own weight. In this way, the body is optimally supported during the night's rest.
The top of a box spring bed is the so-called topper. This often has a height of between five and nine centimetres and is made of different materials. Toppers made of cold foam make the lying surface even more elastic and correspondingly harder. If you sleep badly, a topper made of cold foam is the right choice. This resumes its original shape particularly quickly when it is relieved by a change to other lying positions.
Toppers made of cold foam are known for being breathable. Another variant is a topper made of viscose, which has the popular memory property. This sinks in under pressure and heat and thus has very good pressure relief. Toppers with latex filling, on the other hand, are somewhat more springy. Toppers generally have the function of making the bed even more comfortable. In married beds with separate mattresses, they also cover the gap in the middle. However, the topper also protects the mattress and thus prolongs the life of the entire bed. It can be easily replaced if necessary and is also washable. Covering with a sheet is therefore absolutely sufficient.
The many technical aspects that ensure pleasant comfort are invisible to the user. Box spring beds are always built with a cover that can be made of textile, polyester, imitation leather or even velvet and silk. Some models are also available in different versions so that the bed can be adapted to the current furnishings of the bedroom in the best possible way.
You can buy box spring beds for your bedroom from us as single and double beds in all possible sizes and in numerous heights. The height of some models is often 55 centimetres. Very high ones are up to 72 centimetres high. When it comes to the perfect height, body size plays an important role. Our range also includes box spring beds that have integrated storage space instead of feet. These models are good for small bedrooms to create storage space. They are especially popular for children's rooms, smaller flats and guest rooms.
In addition to the best size, height and features for your own preferences, your new bed should of course also be a feast for your eyes visually. With us, you can therefore find box spring beds in many different design variants. Some are visually simple, others have additional features such as a seam in the headboard.
The colour of the cover has a non-negligible influence on the appearance of the sleeping area. With regard to the cover, you can choose between subtle colours such as light grey or dark grey, eye-catching colours such as red, blue or yellow and imaginative colour combinations. The headboard can run across the entire width of the bed in the case of marriage beds or have an overhang on both sides.
When choosing your bed, also look at the additional options available. In a bed drawer with storage space, you can stow away the bed linen or even items that you only need sometimes. Just as practical is a matching bedside table, which can be made by us with the cover of the bed.
We also offer box spring beds with a motor for electric adjustment. With such models, the foot and head sections can be adjusted by remote control. We do not use a remote control that is connected to the motor by a cable, but by radio. Not only elderly people and users who like to watch TV in bed appreciate this pleasant comfort.
The motor makes it possible to adjust the lying surface even in the middle of the night. Other options can be square or round feet. They should be colour-coordinated with the covers, making your new bed look even more attractive. Equally cosy and also comfortable for those who like to read a bit before falling asleep is a headboard with an additional curve, such as our Convex model.
With a box spring bed, three upholstered components provide a high level of comfort. The clear advantage over a simple bed with slatted frame and mattress is therefore obvious. A possible alternative can also be an upholstered bed. Such beds resemble box-spring beds in their appearance, the upholstered bed frames and the usually very large headboard, but are supplied with slatted frames and mattresses. This category also includes beds with motors and variants with a comfortable height.